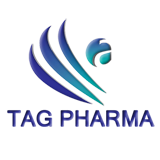 TAG PHARMA is a stock holding health care pharmaceutical company headquartered in Cairo, Egypt. It was established in 2005.
TAG PHARMA acquires and delivers innovative medicines that enable people to live better, healthier, and more active lives.
TAG PHARMA in its short life span has gained loyalty and respect from its customers, and its products enjoy a very good reputation among its customers because of high quality and competitive cost.
TAG PHARMA goal is to provide its customers with products and services representing the best mix of quality and value to fulfill its commitment "uncompromised quality at a competitive value" and to achieve its slogan "committed to be your first choice".